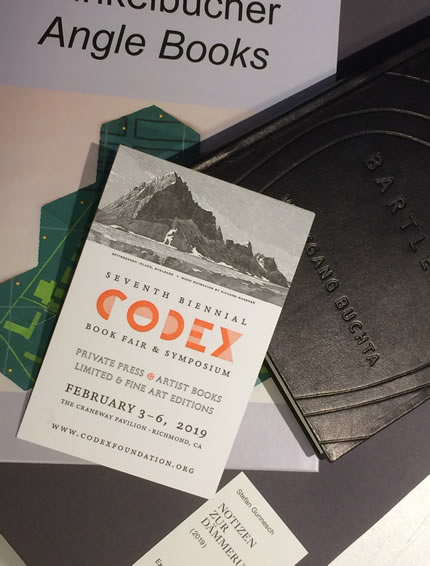 SEE YOU AT CODEX
The international CODEX book fair and symposium is taking place 3– 6 February in Berkeley, California.
Find Galerie DRUCK & BUCH at table 115
.
This year I have been invited to give the keynote speech on 5 February. With the title
Here and there is everywhere
,
I will talk about my experiences and viewpoint regarding book art in Europe and the United States: the different styles of collecting, politics in book art here and there, and aspects of aesthetics.
We look forward to seeing you! It is always a grand event, with over 200 book art exhibitors from the whole world!
Click
her
e
for the program.
A selection of the most recent books by the following artists will be on our table 115:
Ulrich Wagner / Monika Rohrmus / Burgi Kühnemann / Hyewon Jang / Yasutomo Ota / Wolfgang Buchta / Anja Harms / Eberhard Müller-Fries / Thorsten Baensch + Richard Kostelanetz / Anna Helm / Stefan Gunnesch / Patrizia Meinert / Kurt Johannessen

See you in California!!

Many greetings,

Susanne Padberg, Galerie DRUCK & BUCH